In 1904 Frederick Sharp and his family came over the Tay from Dundee to live closer to the Royal and Ancient Golf Club at St. Andrews. They built and maintained their own 9 hole golf course in front of their Mansionhouse, that proved to be very popular with the amateur and professional hickory players of the day.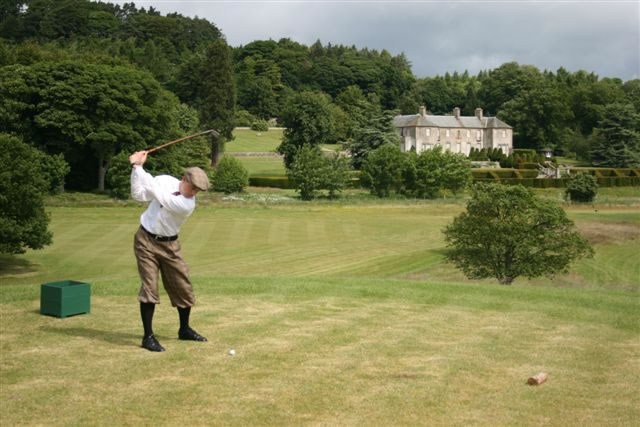 The Kingarrock is open to visitors from Easter to October. Please telephone or email to reserve the first tee.
Kingarrock is only ten miles from the famous 'Old Course' where the Open Championship is held every five years.
Frederick constructed his own 9 hole
golf course in the parkland in front
of the house

His son, Hugh, an expert sportsman,
also enjoyed a round with his
father and friends.
The sad and tragic death of Hugh in 1937 at the Castlecary Rail Disaster and the onset of war resulted in Kingarrock being ploughed up and used for farming ever since.
In 2002 the Anderson family decided to invest their time and money in bringing the old family course back to life and the Kingarrock Golf Course re-opened for the first time in over 70 years on the 28th June 2008.

All players will be provided with original hickory clubs, an old golf bag, together with balls and tees that represent the early 20th century golfing experience.
The size of the hole remains four and a quarter inches and the thrill of competition will be as great as ever.
Forester's Cottage will be staffed by men and women knowledgeable in the period 1910 to 1930. They will provide you with a Spoon, Driving Iron, Mid Mashie, Mashie Niblick and Putter, together with helpful advice on play.
With golf bag, clubs and balls weighing on average only 5 lbs., there is no need for trolleys or buggies!

Golf at Kingarrock will re-establish the thrill of the game 100 years ago with hickory shafts and softer golf balls. The more gentle sport will be rekindled in the most beautiful of Scottish settings.


Hugh Sharp's hickories